Germany is the European champion! At least when it comes to the rate of returns in e-commerce.
Returns in e-commerce. A problem that has been known for a long time – but who is able to tackle this problem? And what are the solutions?
The fact that the e-commerce sector has been growing continuously for quite some time is no big news. Likewise, it is not news that returns are an increasing problem. Online customers return more than 30% of their purchases.
Those involved in the market will know that how a customer experiences a returns process has a decisive impact on customer satisfaction and directly influences whether they will buy from the store again. Hence, performing well in reverse logistics is the cornerstone to building customer loyalty and repeat business.
So let's have a closer look at why returns are both a real challenge and a market opportunity, and why we believe from a VC perspective that there is lots of space for technology-driven startups to make a real difference.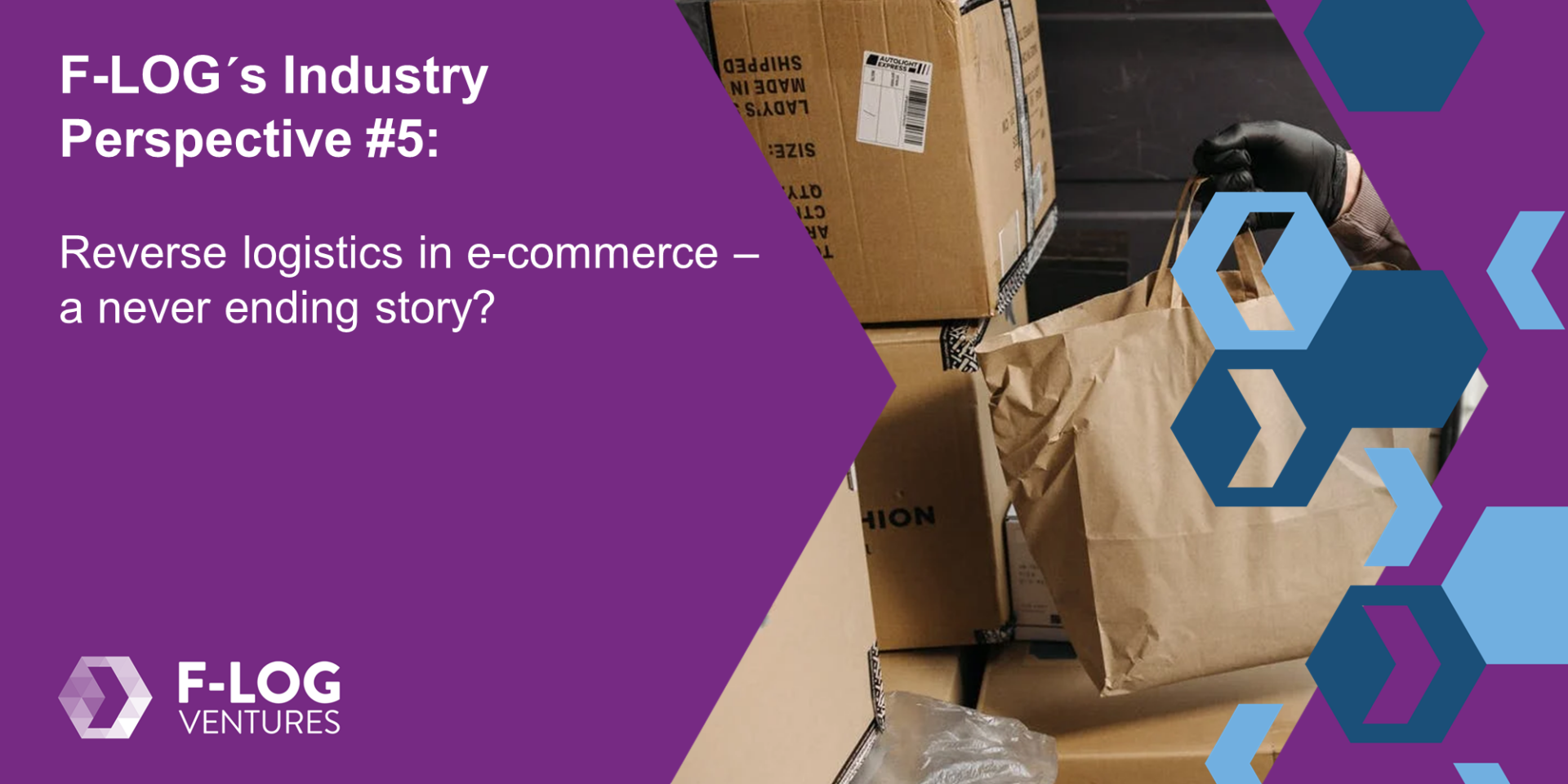 In 2021, the global e-commerce market generated sales worth USD 4,938 billion. With a CAGR of 16.8% from 2020 to 2021, the market has proven its immense growth for another consecutive year. The number of returns, however, has been reported to have doubled between 2019 and 2020, thus growing way faster than its parent market. In Germany alone, nearly 500,000,000 returned items have caused processing costs of more than EUR 5 billion (2018). While the fashion industry bears the biggest share of these costs (33%), recording the highest likelihood of items being returned (56% of fashion items are sent back), other product segments are affected, too. 91% of retailers across segments state that their return volumes are growing.
Let's dig deeper into the retailers' perspective and try to understand why returns are problematic.
Pain points from retailers' and shoppers' perspective
High costs of returns: Depending on the retailer's size and individual processes, a return will cost a German online retailer somewhere between EUR 8 and 10 per parcel. While half of this amount goes to the actual cost of transportation, the other half represents the cost of processing the return. Such high costs even lead some companies to refund the customer's expense without asking them to return the purchase. Hence, companies prefer to give away the goods for free than to invest time and money into the return shipment. All in all, profit margins and conversion rates deteriorate significantly and may even discourage businesses in the long run.
Return processes have a major impact on the NPS and customer satisfaction. Unpleasant return experiences often negatively impact the company, resulting in over 30% of shoppers avoiding the online store in the future. About 70% of all customers make purchases and potential repurchases dependent on the return conditions and their previous experience with returns.
Complex processes: Return processes are mostly paper-based, non-digital, and require manual handling of physical goods. Moreover, the manual inspection and assessments of the quality of the returned goods is often based on subjective perceptions.
Uncertainties: Retailers have difficulties in anticipating returns and taking them into account in inventory planning
Also, customers face certain pain points when it comes to returning their online purchases. For more than a third of customers shopping online, paying for the cost of a return is the biggest pain point. Due to ever-increasing costs for returns, more and more retailers are asking for fees for returning items again. But which other pain points do customers experience when returning goods shopped online?
Inconvenient return processes: Just over a third of all online retailers include the return label with the initial delivery. Roughly 50% of all retailers expect customers to download and print out their return labels themselves. In the remaining cases, consumers either have to download and print the label, request one in person (via e-mail or by phone) or buy one directly at the carrier shop. Even if these procedures are an inconvenience for the customer, they sometimes allow retailers to better anticipate returns and improve their inventory planning. Moreover, some retailers intentionally create inconvenient return processes to prevent the customer from returning the goods.
Non-transparent return processes: More often than not, a purchase will only be credited to the customer's account once the return has reached the retailer's warehouse.
Non-transparent return policies: One in three customers decides against buying from an online retailer because they have difficulties finding information on the return policy.
Limited options to return goods: Most retailers still require customers to take their returns to the post office themselves. On average, only 8% of retailers offer free returns pick-up, and one percent of retailers offer to pick up returns at a fee.
Let's not forget the environmental impact of returns: In Germany, returns accounted for 238,000 metric tons of CO2 equivalents (CO2e) in 2018. Even before 2020, every year, a remarkable 2.3 billion kilograms of returns were disposed at landfills only in the U.S..
Funding & exits
Driven by the high relevancy of the topic, reverse logistics is clearly a field of high potential when it comes to founding new businesses. Startups tackling current developments in the e-commerce industry bring high hopes to investors which is emphasized by recent funding in the field of reverse logistics. However, looking at recent investments, the US market once again seems to be ahead of Europe. Especially in the US, startups have raised significant funding recently, which demonstrates how hot the topic is. Therefore, let us take a look at recent funding and exits.
Optoro - total raised: USD 360 million: Optoro helps to solve the above-mentioned issues on both the retailers' and the consumers' sides. It allows online shoppers to return goods label-free and box-free at more than 1,000 stores in the US for an immediate refund or exchange. Retailers use the software to resell returned inventory on various channels and also to outsource the fulfillment of returns or to optimize product-related decisions based on AI algorithms. Other startups in the returns domain that have recently nabbed significant funding are Loop (USD 78 million) and ReverseLogix (USD 20 million).
In addition to growth capital funding, renowned last mile and software giants have shown major interest in acquiring returns technology startups. Veho, a technology company that enables next-day delivery for e-commerce brands, recently announced the acquisition of QuikReturn. The reverse logistics startup QuikReturn has developed a new technology to offer its customers a scheduled pick-up of returns. At the time of Veho's acquisition, QuikReturn had already raised a total of USD 300 million and was most recently valued at USD 1.6 billion.
Further remarkable exits in this space include PayPal's acquisition of Happy Returns as well as Returnly's acquisition by affirm.
F-LOG perspective: how to tackle the challenges of returns?
Returns in e-commerce come with a variety of challenges. Here at F-LOG we believe there are several starting points for potential solutions that can tackle these challenges:
In order to reduce the number of returns in general, it is necessary to work on solutions pre-sale. By using A.I. and augmented reality, for example, customers can be given a more precise indication of products before they buy them, thus reducing the likelihood of a return. However, from a VC perspective, these models have not yet gained significant traction. The acquisition of Presize by Facebook is one of the first major exits in this area. Besides, Presize is still in a very early phase, which does not yet support an appropriate assessment of the deal.
The return process is critical to customer satisfaction. Furthermore, additional touchpoints can be addressed. Solutions that deal with central drop-off points for returns or the pick-up of returns are highly interesting for customers as well as retailers due to their direct impact on customer satisfaction.
One of the hottest topics at the moment are last mile delivery models. Every day, Lieferando, Gorillas et al deliver groceries and other consumers goods directly to our doorstep - only to return to their base with an empty backpack. Surely there is a way to integrate the pick-up of returns into existing last mile models.
Up until now, the (physical) handling of returns goes hand in hand with an immense manual workload. Those who manage to automate processes, for example with the help of robotic or data technologies, are guaranteed to strike a nerve with all retailers and logistics providers.
The alarming amount of returned goods that are disposed at a landfill has been highlighted above. Isn't there a way to save these goods from the landfill and reprocess them for sale?  Again, US-startups like Optoro give hope.
Returns put retailers under economic pressure, are a major disruption to the consumers' shopping experience and should be avoided all together, or in the least handled more sustainably for a number of ecological reasons. From a VC perspective, these aspects should be a reason for startups to apply cutting-edge technology and thought-through business models to address the returns market. Especially with regard to Europe, we expect to see a major change here.