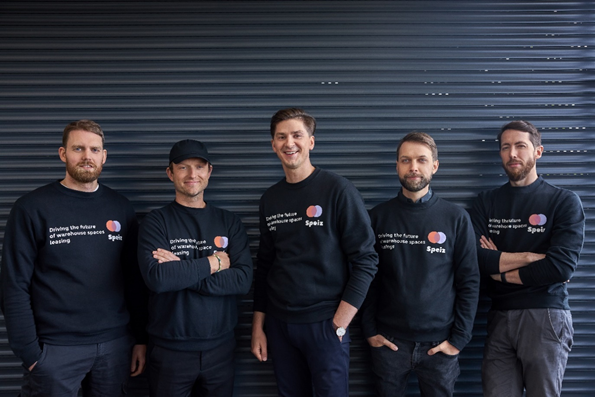 Speiz is the perfect complement for service companies operating in fulfillment, last mile, and urban mobility as well as for large real estate companies. It fills the non-digital market segment for renting logistics space. Pilot customers such as Bolt (latest funding round: € 711 m) and large real estate companies have already been acquired. Speiz aims to grow together with these market participants.
The demand for new warehousing space and urban as well as suburban locations has increased in recent years. Even now, at an expected economic turning point, the renting activity of new logistics space is still higher than 2021. In the current situation, space has become a success factor in logistics. Meanwhile, new business models from fulfillment and last-mile startups which target the feasibility of more efficient same/next-day promises, are gaining urban ground.
Logistics real estate­ facts and figures
The rental market for logistics real estate has been growing steadily since 2019. It closed 2022 in Europe with a record year-over-year growth rate of 15 %. Demand for more than 11,000 new warehouses in the next five years meets an already saturated market where only a limited amount of space is still available. This has led to a sharp increase in rent ­ 14 % between 2016 and 2021 in prime German regions where, as a consequence, the development of new spaces is predicted to reach a new high in 2022.
The problem(s)
Developers of logistics spaces are becoming more and more creative to solve the warehouse construction backlog of almost 2 year after the COVID-pandemic. However, logistical operations require space that surpasses the needs of ordinary commercial users many times over. For example, urban and suburban logistical operations demand sufficient space for loading and offloading a variety of transport vehicles. Ease of access even during rush hour, safety-relevant standards that correspond to the stored product groups, and - last but not least - maximum proximity to the recipient of the goods are some of the necessary requirements. These new models move hubs closer to cities.
For tenants that operate hundreds of warehouses at the same time (Getir fulfills its orders from more than 1,000 hubs), rental costs make up a huge share of operational costs. Established logistics players must play along so as not to lose clients to these more consumer-centric competitors. Consequently, finding the right warehouse spaces will more than ever be a competitive factor. But right now, there is no strategic tool to systematically search for appropriate spaces that meet tenants' requirements.
Landlords trying to match these (new) tenants require less bureaucratic and manual leasing systems and tenancy management processes. Currently, they are paying unreasonably high commission fees to brokers who only have limited market penetration or use conventional marketplace platforms that do not know the exact and changing requirements of the sector.
The Solution – Speiz
We believe in Speiz, because their solution focuses purely on logistics spaces - the best possible approach in our opinion. The Oslo-based startup was founded in 2020 and has developed a data-driven platform that digitizes and optimizes the rental market for warehouse and logistics real estate. F-LOG led the seed funding round and is part of the consortium consisting of investors such as Lithuanian seed stage VC, Iron Wolf Capital and a group of business angels.
Speiz offers a technology-based, two-sided platform that enables landlords to manage their leasing process for logistics spaces digitally and in a targeted manner. The platform matches their space with the specific needs of potential tenants. It focuses especially on matching landlords and tenants. Unlike other real estate platforms, Speiz approaches landlords and tenants directly and connects them according to their needs and characteristics.
Speiz convinced us because -
Paulius, Sondre, Vilius and their team have more than 30 years of combined experience in the startup, real estate, and tech environment. The three founders are successful serial founders who know how to run a company in the logistics real estate business.
the company understands that it is operating in a landlord-dominated market and is working on an end-to-end product that digitizes and automates the entire leasing and property management/ administration process for landlords. Speiz has already won over multiple large real estate companies that now manage their entire portfolio on the Speiz platform. They also act as early-stage strategic development partners.
the team has created a dedicated platform for logistics real estate close to the city instead of an "all-round rental platform". Speiz recognized that logistics real estate is increasingly contributing to the strategic competitive advantage before and of the last mile.
the platform uses proprietary technology to identify and assess spaces and at the same time, uses third-party technology (like 3D viewing) to maximize the user experience. Through AI-based search and analysis, Speiz assesses properties that currently cater to a completely different use case (like a supermarket, for example) in terms of their fit for logistical purposes. The properties are then categorized, allowing customers to filter their features accordingly.
From a VC perspective, Speiz' business model allows for highly attractive scores in major B2B marketplace KPIs, particularly in CACs, ACVs and days-to-turn.
To learn more, visit Speiz online or get in touch with @Michael Geers
Keeping you up to date!