Sustainability has been an omnipresent topic not just since recently – so how could we not address it in terms of logistics and venture capital scene developments?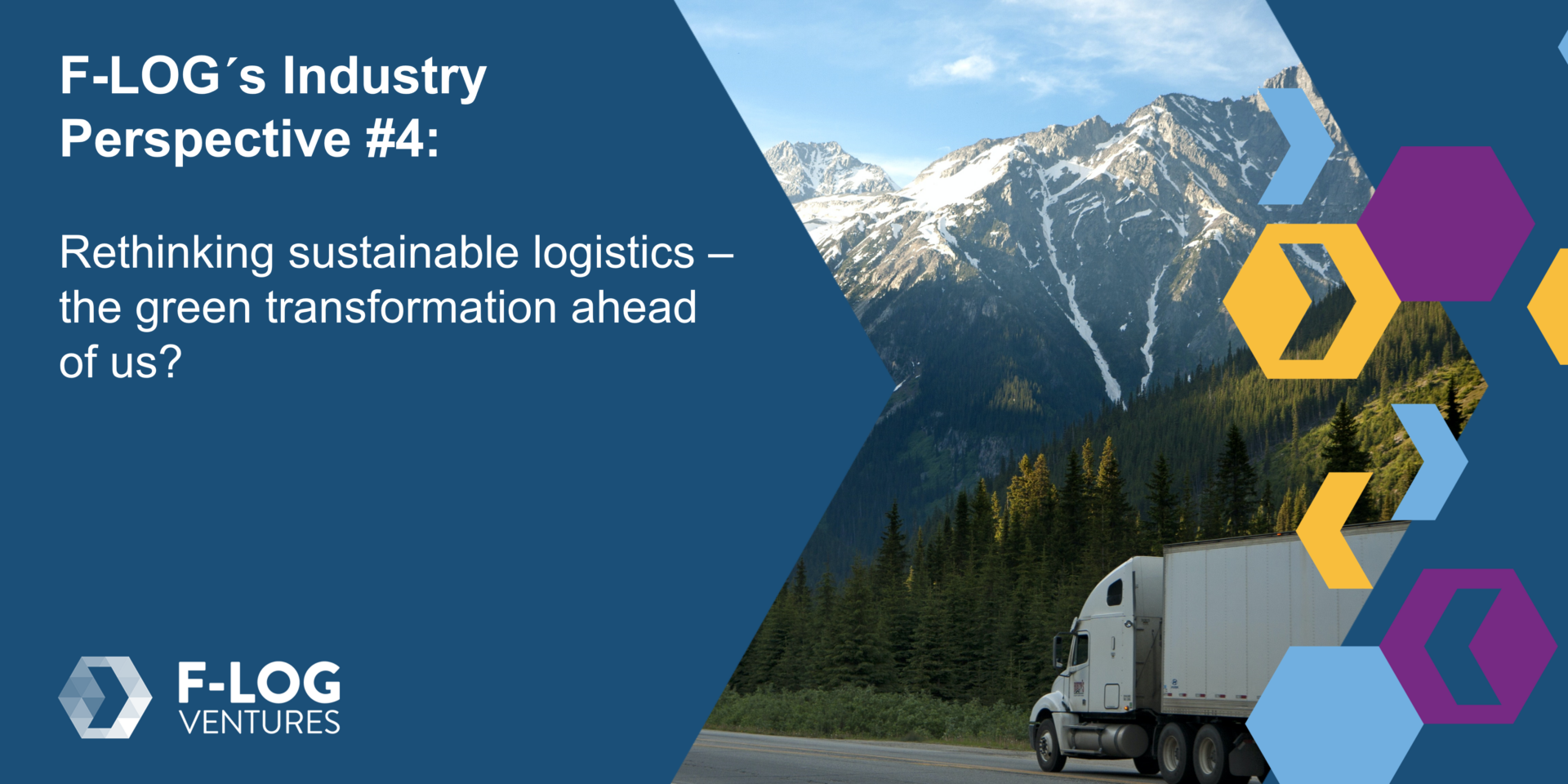 We're all aware of the fact that the sustainable way of doing business has become more important in recent years. Resources are scarce, consumer behavior is changing towards a more eco-friendly product or service choice, technologies are evolving extremely fast, and political regulations are tightening because of e.g., specific emission targets in the Paris Climate Agreement. Our society is demanding a green transformation and businesses have to deliver. They are adjusting their strategies or even developing new business models to meet their customers' needs and reduce their ecological impact – especially in the logistics sector.
Startups with the goal of making our markets more sustainable are becoming increasingly interesting for venture capitalists although this trend is nothing new in the VC scene. Cleantech startups using clean technologies to fight the climate crisis or preserve resources, for example, were already booming in the early 2000s. However, their often hardware-heavy approaches could not be scaled sufficiently, and their long-term product development was very unclear, making investors hesitant about investing big.
Since then, two major developments have emerged. Firstly, the mindset of investors has broadened - a development also driven by funding and investors wanting to follow ESG (environmental, social, and corporate governance) criteria, thereby focusing on ethical actions. Secondly and more importantly, the mindset of high potentials has evolved towards the ambition for their business actions to have an impact. While in the early 2000s, a corporate lifestyle at investment banks or consulting firms was the ultimate goal, today, many high potentials are per se increasingly motivated to found their own company and thus have a significant say in the strategic direction and the value culture of their startup. The desire to have a positive impact adds up to this and encourages more founders.
From our perspective, this is the best thing that could have happened. In the past, a major disadvantage of sustainable companies was that they had the stigma of failing to reach their purpose. With the tremendous talent that the sustainability sector has gained over the past years and the commercial development that has come with it, the sector is ready for big investments and to create an enormous impact. From a logistics perspective, we identify several business models and fields of application that address the circular economy:
Reducing CO2 emissions
This is probably the most obvious claim. At F-LOG, we are seeing an increasing number of companies targeting the global CO2 emission problem and seeking funding. This especially concerns modes of transport for goods and commodities, including the entire field of e-mobility. Electric commercial vehicles like trucks, but also electric ships and planes have slowly been developing over the past few years due to the zero-emission target of all transport by 2050 under the Paris Climate Accord. In Europe, Volvo is one of the market leaders in e-trucks but only sold 346 units in 2021. So far, no European country has managed to actually utilize e-trucks in numbers above a three-figure rate - with Switzerland and its 77 e-trucks in operation leading the way. Germany ranks fifth with 37 purely battery-driven electric trucks. One of the biggest challenges remains for the battery capacity to handle routes of more than 200 km and the associated time needed to recharge during which the truck cannot be driven. This leads to increased transport costs and results in productivity losses in the single good sold. Shifting perspective to the last mile, many (lately well-funded) startups try to address sustainable deliveries by concentrating on transport modes like cargo bikes or vans (e.g., Liefergrün, GetHenry, or Packfleet) or autonomous robots. Starship, for example, secured US$ 100m in two rounds within 30 days both executed at the beginning of this year. This investment enables them to expand their autonomous delivery services to North American and European cities. For more information on the last mile, check out our city logistics blog.
In addition to transportation, developments at management software level are also apparent. Especially tools helping corporates with emission tracking and ESG compliance are gaining traction. Solutions throughout the entire supply chain are already simplifying and supporting the individual decision-making process on the reduction of CO2 emissions. Companies like the French startup Sweep (US$ 100m funding), Persefoni from the US (US$ 118 m), or Berlin-based PlanA (US$ 13m) already received substantial funding despite being relatively new to the market, which shows investors' growing interest in business models tackling sustainability solutions.
Waste reduction
Another field being progressively disrupted in terms of sustainability is waste reduction. And just as the recycling process itself, the ecosystem involving startups addressing the waste management sector is a circular one: there are startups that try to convince the customer to change their behavior toward a more sustainable and conscious consumption – then there are those with tools to manage the already generated overproduction (e.g., Misfit) – and those that aim to reduce or to avoid waste all together (e.g., PlasticEnergy).
A specific use case of waste reduction is the packaging of goods. According to the Cradle2Cradle (C2C) concept which recycles raw materials to be fully reused, sustainable packaging should be recyclable or biodegradable. The packaging includes all materials used to send an order as well as transport packaging such as pallets, covers, transport cages, and shrink film. Regulated by the German Packaging Act, which was introduced in 2019, companies that bring packaging into circulation are also responsible for taking it back and sorting it, as well as documenting details of how it is/can be recycled. This and the mandatory registration of packaging solutions, among other things, will be tightened by July 1, 2022. Alternative concepts range from reusable packaging such as heavy-duty boxes or pallets to different combinations of materials that are easy to recycle or have themselves been recycled (e.g., paper, cardboard, or carton). Exemplary startups include London-based Notpla receiving more than US$ 13m in December 2021 or the mature US startup Temper Pack raising a Series D of US$ 140m in March 2022. Rather young is Woola, which is providing sheep wool-based compostable packaging solutions.
Efficient use of warehouse space
Lastly, an essential role is played by where and how goods are stored with the goal of reducing unused space. As the prices for logistics spaces continue to rise, discussions often revolve around whether existing space can and should be used in both warehouses and other storage facilities, or whether new real property should be built. It certainly does not need to be emphasized here that the former option is probably the more sustainable one. However, a trend is seen here toward investments in new buildings regardless of the segment. Alternatives to new spaces are, for example, options like on-demand warehousing and mini hubs in urban areas. On-demand warehousing offers the opportunity to flexibly store and digitally manage goods while sharing spaces with several parties when not in use. Advantages include, e.g., filling fluctuating warehouse occupancy, shorter last-mile transport routes as well as shorter or more precise delivery times. Another concept that, for example, SpaceFill offers is to use the platform's economy to make available space visible, and easy and fast to rent out. The French company secured US$ 25m recently in a Series B led by NGP Capital and Maersk Growth.
Sustainability is here to stay and that's a good thing. This blog adds value to discussions about current developments in the logistics sector. A lot is happening in terms of transportation, warehousing, and the materials used, showing just how diverse sustainability can be.
Our final words of wisdom:
It's never the businesses alone that make the change. It's us. The consumers. Our daily decisions set the course!